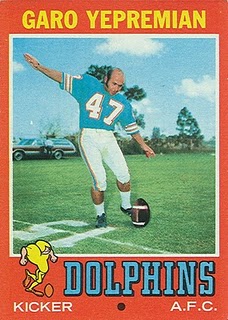 Sadly, we learned about the passing of another player from the undefeated team. The Cypriot who had the funny accent, and who once said "I keek a touchdown" and who famously tried to throw the ball in the super bowl (and who Csonka famously said he would kill if they lost), passed away at 70.
May the football gods welcome you with feasting and song.
for the record, this is my favorite football card ever...the car, the field, the number 47...what's not to love?