To former Dolphins QB Earl Morrall who passed away Friday at his home in Naples.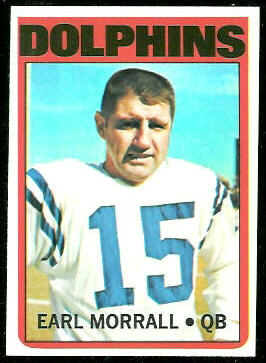 Earl is famously known as the guy who led the undefeated Dolphins in 1972 for most of the season. But he has a rich - and somewhat complex - history that these guys did a great job exploring:
http://miamimigraine.blogspot.com/2007/09/curious-career-of-earl-morrall-part-one.html
(there are several parts, but they're all linked)
I had an opportunity to meet Morrall a couple of years ago, and wound up talking with him for quite a while. He was engaging, and I was flattered with the time he spent with me.
But, for me, the story got even better. I met him while I was still doing my podcast, and I asked if he would be willing to be a guest. He was flattered I asked, and gave me his home number and asked me to call him.
I called a few days later, and he answered. He was gracious, humble, and basically a regular guy. He said he couldn't do the interview at that time, and needed to check with his wife since she managed his engagements - and so we talked about how funny it is that the wives run the calendars, and how we would be lost without them. ;)
I wound up calling a few more times, and we never were able to connect for the interview. But, I did wind up talking to him for the better part of 30 minutes, over the course of all of our conversations. And to me, that was just as good - though I obviously can't share it with you. It was mundane stuff for the most part. But it was wonderful in its own right.
I am saddened by his passing. After all, he was only 79. But football - especially to those who played it in the 40s and 50s (he started in the 50s, and that meant he played in 3 decades!) - was a brutal sport. And it undoubtedly took its toll on him and his overall health.
And for those of you not in the know, he helped develop the quarterbacks at the U in the Hurricanes heyday.
And he was on the town council for the town of Davie - and there's a road named after him which I happen to, ahem, pass a few times a week.
Mr. Morrall, it was my pleasure talking with you. And as a fan of the team, thanks for what you did here.