Tuna fishing? Parcells has opt-out clause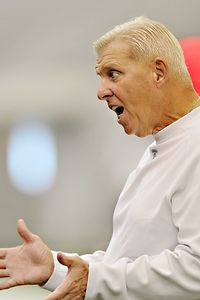 Steve Mitchell/US Presswire
Bill Parcells' contract with the Dolphins allows him to leave the team if owner Wayne Huizenga sells his majority share.
It's a possibility, hinging on whether
Miami Dolphins
owner Wayne Huizenga's sale of his majority ownership of the team goes through, sources told ESPN senior NFL analyst Chris Mortensen.
When Parcells joined the Dolphins as executive vice president of football operations last year, his deal included a onetime out clause that would allow him to walk away, with the rest of his $12 million guaranteed contract fully paid, no strings attached, if Huizenga were to sell the team.
Earlier this year, Huizenga agreed to sell 95 percent of the Dolphins to New York developer and team part-owner Stephen Ross. Huizenga hopes to close on the deal by early January to ensure that the capital gains taxes on the sale remain at 15 percent before President-elect Barack Obama takes the oath of office Jan. 20, Mortensen reported.
Parcells' contract specifically states only Huizenga can be in authority over him. Once Ross officially becomes majority owner, Parcells has to notify Ross within 30 days that he intends to exercise his walk-away clause and collect the full balance of $9 million, Mortensen reported.
At that time, Parcells would be a free agent. And any team that wants his services would not owe compensation to the Dolphins, according to the report.
Parcells could negotiate with Ross to extend his opt-out clause by one year. But as presently written, the clause doesn't extend after one season, according to the report.
ESPN senior NFL analyst Chris Mortensen contributed to this report.