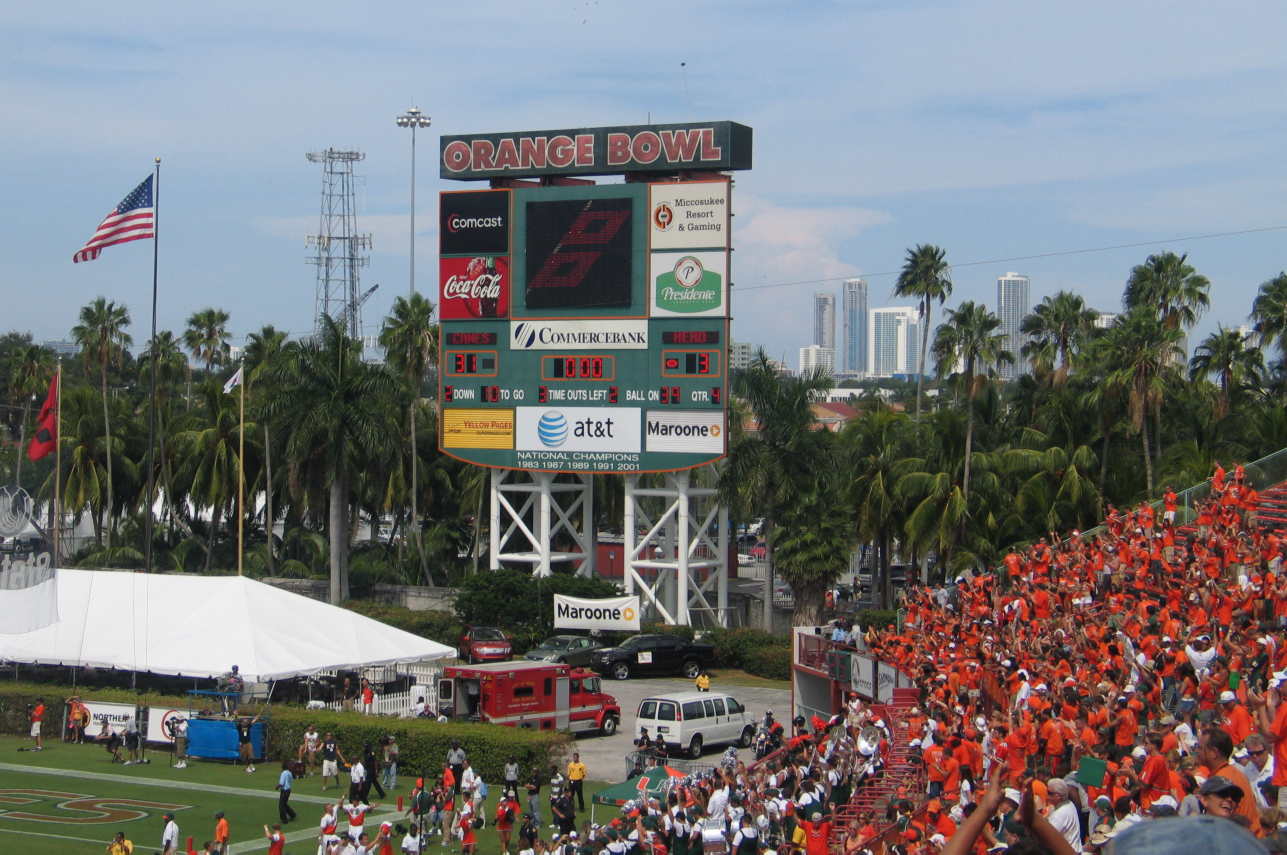 We here at Dave's Bitchin' bid a fond farewell to the stadium formerly known as the Orange Bowl. The last time I attended a game there was more than 10 years ago, and even then she was old and decrepit. I remember seeing chunks of concrete missing in various spots around the stadium. I remember the bathrooms being small, and often backed up. And these issues just continued through last night...
I was always bemused by its charm, and I loved the fact that you parked in someone's back yard to go to the games. It had so much more life than any other cold, antiseptic stadium. It can never be duplicated.
I saw a lot of games there. I was a Dolphins season ticket holder there before the Phins moved. I went to UM during their heydey in the early 80s. And I went to a few soccer games there, as well. And it used to be the place where all the big musical acts would come.
But, by far, my best memory of the place was in the early 80s when a friend and I went to buy Dolphins season tickets. We had a little misadventure along the way; we got lost in Little Havana. My friend was driving, and thought he knew how to get there. Here we are, going up and down streets, trying to find our way to a giant stadium...
Anyway, it was April, and we got there and inquired about tickets. The lady in the office might have been Joe Robbies sister for all we knew; the organization was very family oriented, not like the larger operation it is today. She told us to go into the stadium and pick out the seats we wanted. And we did.
For the next hour or two, the stadium was all ours. We saw a few stadium people around, doing various jobs on the field and what not. But, otherwise, it was empty. So, we relished the moment. We walked through the entire seating area of the stadium, upper and lower deck. We walked through the open endzone. We stepped onto the field. We made our way into the locker rooms. We tried to get up into the pressbox, but couldn't figure out how to get in.
It was awesome. Finally, we picked a couple of seats, and went back to the office.
And thus ended our adventure for the day. It was more than 20 years ago, and I remember it vividly (and fondly). It was the day we got the Orange Bowl to ourselves.
....As a complete aside, the Miami Herald ran a look back at the (Miami Hurricanes at the) Orange Bowl (with a short blurb about the Dolphins and a few other events). They had the picture included here of Richard (the guy with the signs), who they identified as Dolfan Denny. I was amused by that...