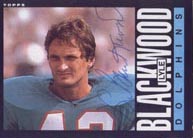 Lyle Blackwood played for the Phins in the early to mid 1980s, along with his brother Glenn. They were the starting safeties on the team that last went to the superbowl.
Lyle was interviewed on Joe Rose's show this morning. They reminisced for a while about their playing days, and though most of the interview was great, there was one moment that was fabulous. Rose asked about the first game Lyle played in for the Phins.
The story went that Lyle had recently been traded to Miami, and his brother was trying to tell him about Shula the coach. Lyle didn't listen. The first game comes and there's a play to the Kansas City tight end in the endzone, and he catches an easy TD. Shula is standing on the sidelines ranting and raving asking "who had the coverage on that play?" and Lyle - who is standing next to Shula - says "that would be me, coach." Apparently, there was a mixup in substitutions and Lyle came out when he shouldn't have, and the TD went to the guy he should have been covering. Shula dressed him down, and he later realized what his brother was trying to tell him.
Anyway, the story goes that on the next defensive series, Lyle was so pissed about being yelled at that he had a big tackle on first down, came across the field on a coverage and broke up a pass on second down, and then intercepted a ball on 3rd down, spiking the ball in front of Shula.
Shula learned that Lyle would play a better game if he yelled at him, so he often did, and Lyle played for a good, long time in Miami. Fairly successfully.